The professional presentation broadcasting solution that's easy to use.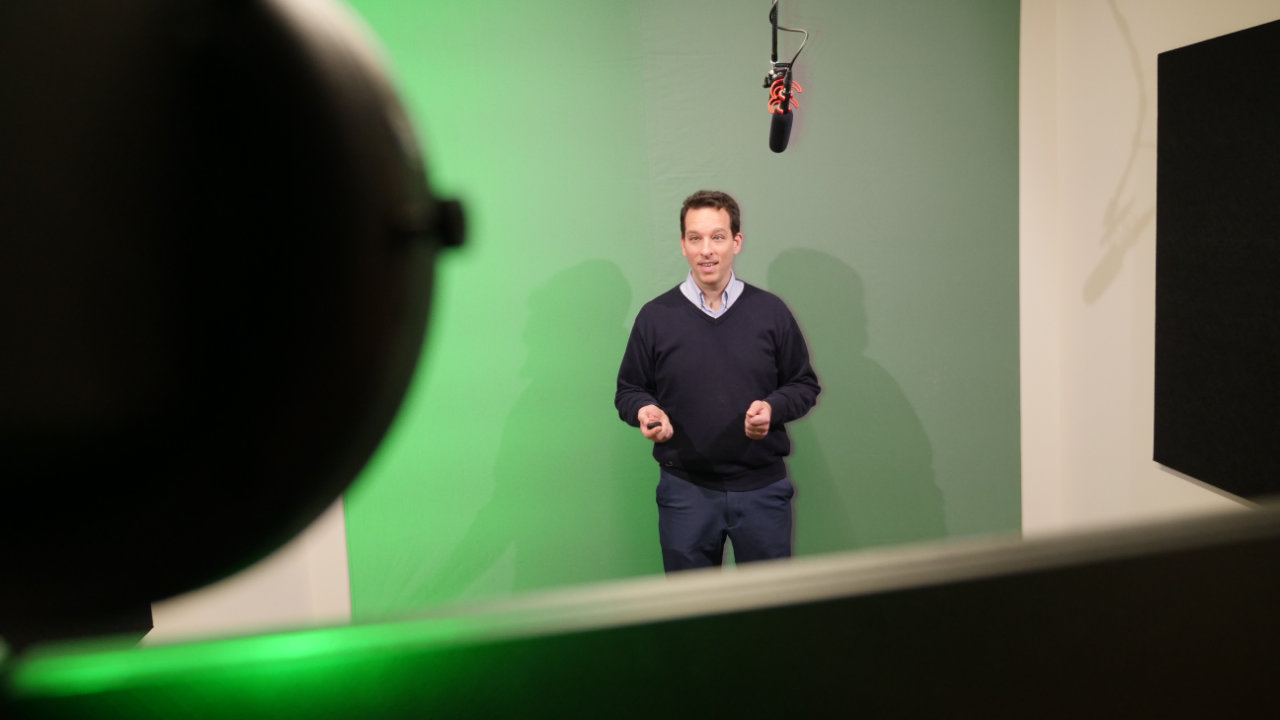 Present & Broadcast
Load your PowerPoint.
Record and/or Broadcast.
Upload your finished video.
The OBS Pro Solves Problems, Saving Time & Money.
Reliable and easy-to-use, so training and tech support are minimal.

Popular with presenters of all ages, because there is no learning curve, and no editing required.

Robust and frequently updated software.

Professional, turn-key installation available.

All-inclusive kit for building a One Button Studio room.

1 Year Free Tech Support.
Why hassle with tripods, light stands, camcorders and cables when you can have an all-in-one system in a dedicated space?
Use cases:
Student Assignment Presentations

Online Class Content Creation

Training Videos

Presentation Practice

Campus Communications
OBS Pro Features:
Our Best Camera & Optics

Touchscreen Control Panel

Easy Upload to your LMS

No Thumb Drive Required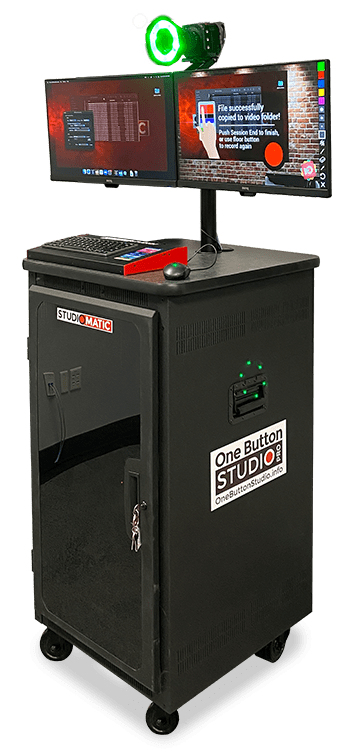 Not only does the OBS Pro reduce production time, its live compositing features eliminate post-production!
The All-Inclusive OBS Pro kit ($36,000) Includes:
Two M1 Mac Minis; presentation & compositing/recording

Dual HD monitors

Panasonic BGH1 Camera with 12-35mm Lumix Lens

ReflecMedia Chroma Key setup

Software based H.264 recording

Low latency live video preview

End-to-end balanced audio signal path

Behringer Xenyx 1002B Audio Mixer

Sennheiser Shotgun Mic

Fsorb Acoustic treatment for better audio

Mic extension mount for better microphone placement

Tunable Fiilex LED Studio Lighting

All hardware for hanging microphone & lights from a drop-ceiling

All hardware for hanging Chromatte curtain and acoustic panels

Foot switch floor button for recording start/stop

Touchscreen control panel for configuring video
StudioMatic: One Button Studio Pro
In this video, Jason walks you through the One Button Studio Pro installation at the Madison Area Technical College. 
When technology is easy to use, it actually gets used! We have gone to great lengths to make sure the One Button Studio Pro meets this standard. Too many times, we have seen the "latest-and-greatest" technology purchased, then remain largely unused––all because it's too complicated.
Our One Button Studio kits are complete solutions. That means you get everything you need to turn a small room into an automated, self-serve, presentation recording studio. To make things even easier, we also offer a turn-key installation service!
OBS Pro – Walkthrough Video [ Run Time: 7:39 ]
Get In Touch With Us Today!
Take the next step toward Automated Video Production by connecting with us.
Request a Quote
We make it easy to get a price quote on a One Button Studio kit that has everything you need.
Request a Quote!
Call Us!
A good old-fashioned phone call can help you cover a lot of ground, fast.
877-353-8077
Email Sign-Up
Get the latest news on feature updates, user stories and more. We've got some great things in store!
Subscribe
Support
Each One Button Studio kit includes a free 1-year support contract.
Technical support is provided by the One Button Studio+Plus developer, Jason Jenkins. He is available via phone or email:  to assist with any problems during installation or operation.
Maintenance
Each One Button Studio kit comes with a 3-year software license. When the license term ends, another license will need to be purchased. To renew your license, contact orders@dvestore.com.
Warranty
Our One Button Studio systems have a 12 month warranty. If any component of the One Button Studio should fail during the first 12 months of ownership, DVEstore Inc. will facilitate repair or replacement of the faulty component, at no charge.
If any component of the One Button Studio should fail after the first 12 months of ownership, DVEstore Inc. will facilitate repair or replacement of the faulty component, charging the retail price of the repair or replacement.